Hirobo 0403-968 SDX D3 SWM SL RH Nitro Power KIT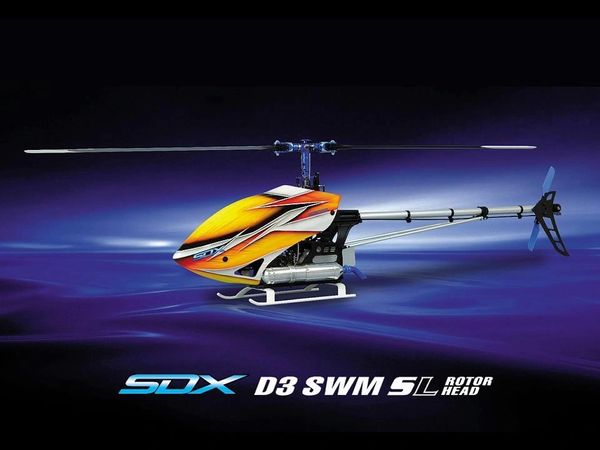 Hirobo 0403-968 SDX D3 SWM SL RH Nitro Power KIT
Hirobo 0403968 SDX D3 SWM SL RH Nitro Power KIT 
Kit price includes shipping to your door from our USA location in Mineola NY.  We keep stock, so availability is immediate.  If out of Stock for some reason, it takes us about 5 days to replenish stock.  We also keep stock of all parts ready for immediate delivery.
The SDX is the third generation of the Sceadu series.  Many changes have been made and new ideas incorporated from Pilot feedback.  Most notable is the new servo mount section.  The new forward one location main servo mounts makes building and maintenance easy and at the same time keeps linkage lengths to a minimum.  Another shining star component is the SDX Swashplate.  As noted below, this swash can be used for any control system out there.  HPM, SWM, 90, 120 or 135 degree linkage mounts are standard.  Also key is the new lower inner bearing diameter.  It is now larger to prevent swash to main shaft bindage in the corners of aileron to elevator interaction seen in extreme maneuvers.




The result of our never-ending pursuit of excellence, by balancing stability, maneuverability and performance for .50 size machines.  The head precisely follows your most minute stick movements.  The new rotor head is our answer for every helicopter flyer, from novice to top-level 3D and F3C pilots.
Higher stability gives more confidence to beginner pilots for their first practice.
The head reacts to any slight stick movement, moving precisely with stick inputs. For maneuvers, the machine tracks straight as a any well built aircraft should.  In aerobatics such as loops and rolls, the head reacts linearly, resulting in beautiful maneuvers in the sky.
For 3D maximum pitch stroke is 30°, same as SSZ-4 & SL head from Turbulence. With new design swashplate, approx 60% more cyclic range possible compared with previous design. The new SDX is perfect model to start practicing 3D, up to the top competition level. The head design prevents any binding during maneuvers, 
 

so 3D world champion performance is executed.
Other parts are designed or improved with harder flight in mind, such as 10mm main mast, 8mm spindle, 8mm thrust BRG, 8mm radial BRG. SDX has nearly same strength and durability of 90 size models.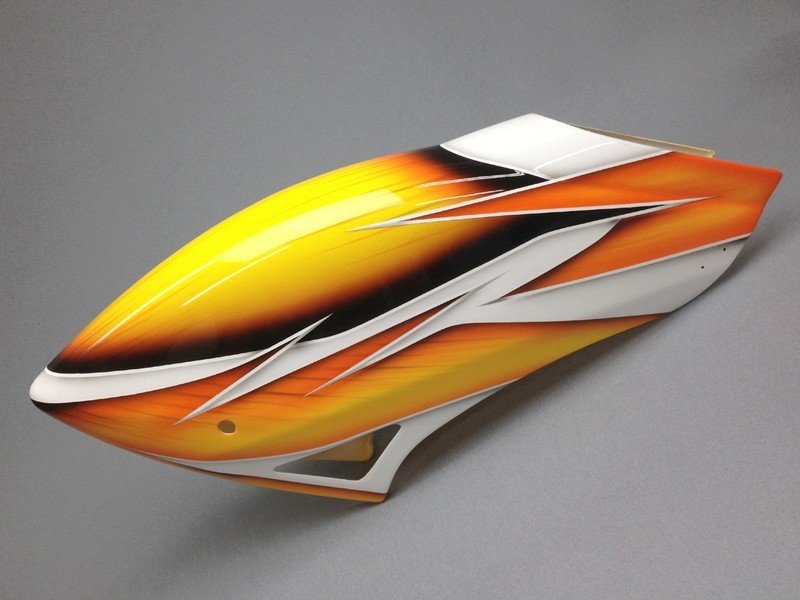 New design cabin with better aerodynamics. Cabin is supported by 4 plastic body mounts, making taking cabin off easier. Cabin is plastic with durable resin.  0403-968 SDX D3 SWM SL OP kits come with painted cabin






The new design swashplate has larger inner bearing (Up from 20mm to 25mm). This eliminates interaction with aileron and elevator control. This part is same size as Eagle 3/Turbulence swashplate. 90 HPM, 120 SWM, and 135 SWM control systems can be used with this swashplate.




The main frame is made of high strength engineering plastic. Excellent performance, design, and durability are achieved by the one-piece main frame with the integrated bearing holders and cooling fan cover.

















・ Length: 1,200mm
・ Width: 186mm
・ Height: 395mm
・ Weight: 50 class 3,400g
・ Gear ratio: 8.7:1:4.71
・ Main rotor diameter 50 class: 1,348mm
  (FRP symmetrical main blade L=600mm)
・Tail rotor diameter: 258mm