HIROBO 0414-948 Freya for OS GT15HZ Gasoline Motor (Not Included)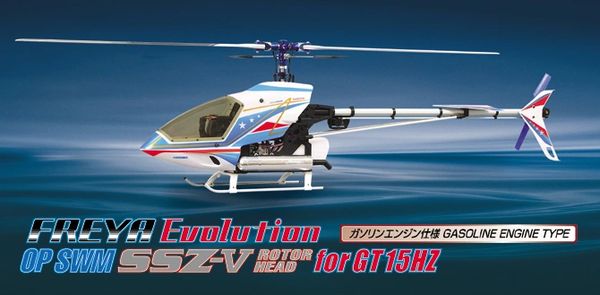 HIROBO 0414-948 Freya for OS GT15HZ Gasoline Motor (Not Included)
HIROBO 0414948 Freya for OS GT15HZ Gasoline Motor (Not Included)
Kit price includes shipping to your door from our USA location in Mineola NY. We keep stock, so availability is immediate. If out of Stock for some reason, it takes us about 5 days to replenish stock. We also keep stock of all parts ready for immediate delivery.
Difference from other nitro models
1. Main frame is modified to fit GT15HZ. This engine will not fit to normal plastic frame
2. All fuel pipes are for gasoline engine.
Please note:
GS engine / muffler / main blades are not included in this kit.
Features:
SSZ-5 rotor head
D3 tail housing /D3 tail blade holder
95T main gear / 11T pinion
Eagle 3 auto rotation clutch assy
Specifications:
Length: 1,375mm
Width: 203mm
Height: 442mm
Weight: 4,700g
Main Rotor diameter: 1,568mm for 680-size, 1,608mm for 720-size
Tail Rotor diameter: 270mm
Gear Ratio: 8.63:1:4.77
Standard setting:
Main gear 95T/Clutch bell 11T
3D setting:
Main gear 91T (sold separately)/Clutch bell 11T
Included items:
Stabilizer blades (stabilizer caps included)
Stabilizer bar 4x535mm
EX 120 deg./135 deg. swashplate
E3 auto-rotation clutch Assy.
Ex main gear 95T
W-Brg included clutch bell 11T
E3 flywhell
Not included/Sold separately:
Transmitter set: Transmitter with swash mode function, 4 servos, rudder gyro, and gyro servo.
Main rotor: L=680~720
Engine: O.S. Engines GT15HZ
Muffler: O.S. Engines Powerpipe GT15HZ