Hirobo Turbulence D3 V2 0414-947 Nitro Power SWM CF SSL (FBL) kit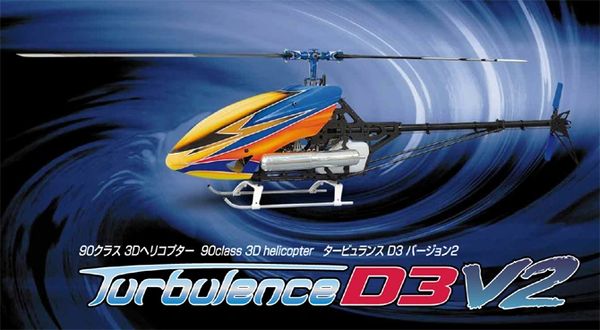 Hirobo Turbulence D3 V2 0414-947 Nitro Power SWM CF SSL (FBL) kit
Kit price includes shipping to your door from our USA location in Mineola NY. We keep stock, so availability is immediate. If out of Stock for some reason, it takes us about 5 days to replenish stock. We also keep stock of all parts ready for immediate delivery.
Introducing the Hirobo Turbulence D3 V2 0414947 Nitro Power SWM CF SSL (FBL) kit
The Hirobo Turbulence D3V2 is Hirobo's 3D flagship model and has been designed from the ground up to be a 3D competitor in every way shape or form. Model CG has been engineered for all around agility yet retain the smoothness Hirobo is renowned and respected for around the world including competing manufacturers. One look at the main frame and you will see the engine is mounted higher in the main frame. This is part frame design, shorter fan hub, and use of the OS 105 with a shorter crankshaft. If using an engine other than the specified OS 105, you will need to order a 0414-392 or 0414-313 flywheel.
Servos are laid out as well as all other radio gear so optimal front to back CG is obtained without adding weight. Tail rotor is beefed up as well with a 6mm output shaft, stronger tail hubs and grips, all metal tail case and special CNC aluminum tail pitch slider yoke. The swashplate is also updated to allow further cyclic deflections while not hitting the main shaft in extreme positions. Multi Colored FRP cabin is also included.
Specs:
Overall Weight: 4900g
Engine: 90 size
Main Rotor Dia. 1600mm
Gear Ratio 8.27:1:4.77
Get the Manual HERE!